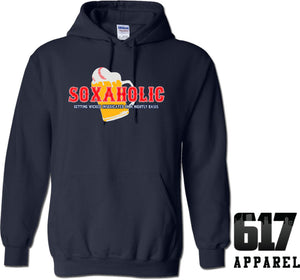 Soxaholic Hoodie
Regular price $35.99 $33.99 Sale
Are you slightly depressed in between Sox games and overwhelmingly excited during them? We're no doctors but you might just be diagnosed as a Soxaholic. Most diagnosed fans get wicked insoxicated on a nightly basis and rarley miss even one of the 162 season games. There commitment and dedication to their team in the good and bad times is un measurable.  
Most cannot help but obsess constantly about their home town team and their is no known cure or treatment for this condition..nor should there be!!! If you have taken the first step and admitted you have a problem or know a friend or family member that is a definite Soxaholic than this is the shirt you need! Fortunately you don't even have to use your words. Our Soxaholic shirts says for you hey you have a problem, but its a damn good one to have!
Support the cause and grab you and your buddy one while you're at it. WARNING: For true Soxaholic fans only!
We offer this great design as a hoodie, t-shirt, long-sleeve, youth shirt or in a ladies tee.
Get this shirt now from 617Apparel.com.